Discussion Starter
·
#1
·
The new crossover may run out of fuel without warning, according to NHTSA.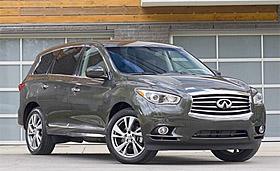 Nissan is recalling the 2013 Infiniti JX because of inaccurate fuel gauges, according to reports filed Tuesday by the National Highway Traffic Safety Administration.
The fuel gauge on the JX, a new 3-row crossover, may show a higher level of fuel than what is actually in the tank. About 7,842 vehicles are affected, and only those built through June 22. Starting in May, Nissan said it investigated several JX vehicles that had suddenly run out of fuel without the low-fuel warning light illuminating or the fuel gauge reading empty, the reports said.
"The fuel transfer tube may get trapped under the float and not allow it to reach its lowest position as the fuel level decreases," the company said. In other cases, Nissan said the tube can interfere with the fuel-pump module, which would block the float from reading empty.
Dealers will reposition the tank's fuel tube and install a new O-ring beginning Sept. 4. Nissan can be reached at 1-800-647-7261 for more information.
http://editorial.autos.msn.com/blogs/autosblog.aspx?feat=dad09439-defc-41c8-a430-4dec2b8b8372