Discussion Starter
·
#1
·
Ok, so us lucky folks down in the US don't get DRLs w/ our 2013 JX35, I'm not sure about the 2014 QX60. So I'm looking into the possibility converting the Turn signal into DRLs but with the turn signal functionality intact by using a Switchback LED. I don't know enough about wiring diagrams and my last high school physics class was a while back so any help would be appreciated. My goal is to not have to cut or splice any of the existing wiring from the current car.
The turn signal bulb is a PY21W bulb @ 21Watts. It uses the Bau15s base connector which is similar to a 1156 bulb (ba15s base) but has a 150 degree offset pin as opposed to a 180 offset pin.
The bulb is single filament and needs to become dual filament (similar to a brake light) so that the switchback led will work. That is a 1157 bulb (bay15d base)
The PY21W is a 2 wire setup and the 1157 is a 3 wire setup. There are two(2) postive (+) wires and 1 ground for the 1157 while the PY21W is 1 of each. The dual positive wires activates each filament in the bulb separately.
So I did find two products that I can splice together.
1157
and bau15s
So I plan on cutting the connector from the BAU15S and attaching it to the connector of the 1157 with 1 wire to be connected to the battery through an Auto On/Off LED DRL switch from
ijdmtoy.com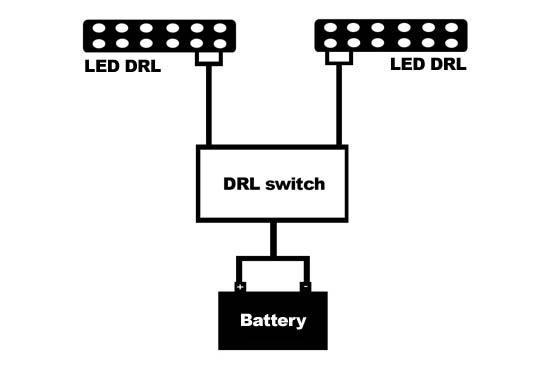 The connectors cost about $32 and the DRL switch is $25.
Does anyone know enough about wiring to tell me if I'm short circuiting anything to get it to work?